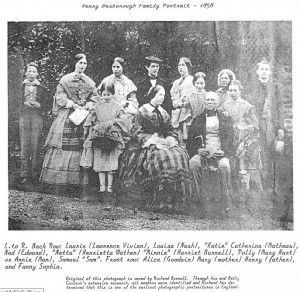 The Pilton Story archive is earning recognition in many parts of the world, some without any connection to Pilton.
We've been able to help two writers, one in South Africa, and another in London, who found us while doing their research. Both were looking up former Bellaire resident, Laurence (Lawrence)  Desborough, whose rare photo they discovered on the Pilton Story website.
The first contact came from historian Richard Wadley, who lives in the Limpopo Province of northern South Africa, where Laurence once managed a huge farm estate.
Mr Wadley was browsing our archive when he found the picture taken more than 150 years ago and given to our archive by Zandra Houston.
The photo is a copy of one of the earliest photographic portraits taken in England and shows Laurence among 12 members of the family of Henry and Alice Desborough who lived at Broadgate Villa in the 1850s.
Laurence became, in 1891, the first manager of the 250 000 acre land holding in South Africa and Richard told us: "The estate later (1913) was purchased by the wealthy Vestey family of the UK, then owners of a cold storage business, a refrigerated shipping line and a chain of butcheries across Britain. They sold the estate back to the South African government in 1939.
"Desborough's family came from Pilton and on your website a couple of years ago I found a remarkable photograph of the family, including young Laurence, taken in 1858."
Richard asked us if he could use the photograph in his account of the region.
The Pilton Story's Martin Haddrill tracked down the photo's donor, Zandra Houston, who gave her permission for its use in Mr Wadley's book.
And Richard complimented us on the Pilton Story archive: "There's no doubting the huge value of an archive like The Pilton Story. I've spent a while (too long actually, given my mission of writing the history of where I live!) browsing on your website.
"I've found it enormously entertaining and informative. I think it's important for us to know our history and that of others with whom we interact, in order to form a better understanding of who we are, why we behave the way we do, why we have particular aspirations and phobias and in the end, how we can use this information to forge a better but realistic future for us all."
Martin explained we'd also heard from someone else intrigued by the photograph:
"Strangely, we had a request concerning the same photo from a Stuart Hibberd in relation to a book he is writing on the history of Crystal Palace football club 1861 – 1876. He said that Lawrence Vivian Desborough represented this club at one of the founding meetings of the FA in 1863.
"What both these requests do is strengthen my belief that an archive like The Pilton Story has a wider value than just Pilton and is worth maintaining!"