Themes - Art
Art which records and/or tells the history of Pilton.
The final Theme of The Pilton Project, in parallel with the development of dramatic presentations of the stories, is focussed on producing Art which records and/or tells the history of Pilton. The first job is to design and make a new mural to be located at the bottom of Pilton Street. This will tell the story of the village with images. This mosaic on the building on the left as you enter Pilton Street from Pilton Causeway was made by the Horse and Bamboo Theatre Group from Lancashire who helped organise the Pilton Festival in 1987.
The new mural will grow out of the Stories which The Pilton Story collects, drawing on the tales coming from the People, the interpretation of the Buildings, and the Objects found. The making of it will draw on the expertise of local craftsmen and the enthusiasm of local children.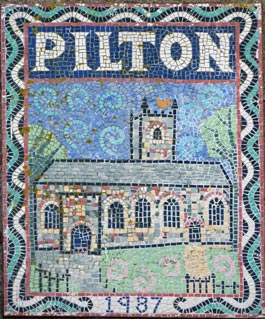 The Big Pilton Question Mark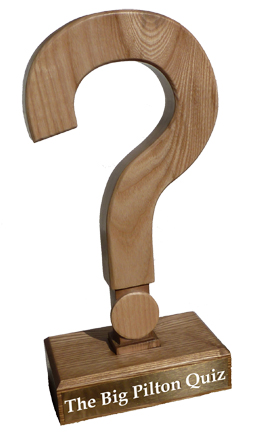 There's lots of pub quizzes about these days but they can be very much the same as each other. Martin and Carol Haddrill decided that Pilton needed its own high quality BIG QUIZ which deserved a matching trophy to be presented every year and help bring the Pilton community closer together. Thus the idea for
The Big Pilton Quiz
was born.
Martin designed a rather unusual trophy, literally on the back of an envelope. It's a large wooden question mark with space for small plaques with the names of the winners. Then they challenged woodworker Mike Taffinder of North Buckland near Georgeham to make it from a piece of ash and he came up trumps with a beautifully crafted work of art which stands 40 cm (16") tall (right) and is wonderfully tactile.
In the first year, 2011, the trophy was won by
The Brinded Cats
- follow the link for the account of this success and the names of the winners. In 2012
The Big Pilton Quiz
was on 5th May and it was won by
The Professionals
and is already included in the archive. Look out for next year's quiz - it will be early in May again.
Go to the
Submit Form
to get in touch with us about Pilton art and getting involved with this part of the project.
© 2018 The Pilton Story.
Website & Database Design by WillcoxMedia.net