Themes - Buildings
The Pilton Story is about buildings old and new
Pilton has a rich history of over 1000 years from the earliest records in the Domesday Book.
Parts of the Priory Church of St Mary, founded in the 12th Century, are the oldest buildings remaining, although the present church is mostly 13th Century or later. Several buildings on Pilton Street date from the 16th Century but have traces of much earlier structures.
The centre of Pilton around 100 years ago, as illustrated by the postcard of an old painting on the Pilton History page, would definitely be recognisable by today's inhabitants.
With the help of local historical architects, The Pilton Story will study and record the history of key Pilton buildings starting with Pilton Church Hall, the front part of which was once a 16th Century Merchant's House.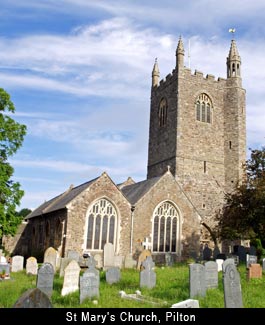 Bull Hill House - a rare example of English architecture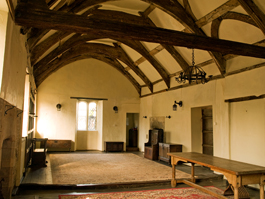 Bull Hill House is an early 15th Century house on Bull Hill, Pilton, which was probably the lodging of the Pilton Prior. The name may refer to the documents issued by him with seals (or Papal Bulls) attached to them. The house had numerous owners over the centuries and was used by Cromwell's soldiers in the English Civil War in the 1640s. After several decades of private restoration, the building was left it to the National Trust in 2010. However, when a use for it was not found, in 2015 it passed back into private ownership and is gradually being restored to its earlier glory by the new owners.
The existing Pilton Heritage Trail will then be expanded and improved with more buildings and locations to visit and the inclusion of some of the new stories.
Go to the Submit Form to get in touch with us with stories about Pilton buildings of interest.
© 2018 The Pilton Story.
Website & Database Design by WillcoxMedia.net