Themes - People
The Pilton Story is first and foremost about people
One of the objectives is to record the stories of as many Pilton people as possible.
We know something of the major players of history. You can read about them on this website, like in the article on 'Pilton Church Hall formerly The Unicorn Inn', but we are looking for much, much more about ordinary people in history.
And little is being recorded about the day-to-day lives of Pilton people today. So that future generations are better informed about our village, we are collecting the stories of recent times before they are lost forever.
Go to the Submit Form to get in touch with us with your stories about Pilton people past and present.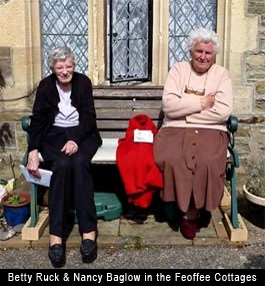 The Pearce Family
The Pearce Family, who lived in Pilton House until it was sold in 1948, was very significant to Pilton life for well over half a century. The Pilton Story has recorded Charles Pearce Senior (b 1858, d. 1945) who was a Justice of the Peace, Mayor of Barnstaple and Churchwarden of St Mary's Church and is shown in the photograph. His first wife, Elizabeth Annie Pearce (b. 1861, d. 1917) was the mother of their five children - Charles Pearce Junior (b. 1886, fought in World War I, d. 1960), John Pearce (b. 1887, d. 1963), Arthur Pearce, and two daughters. Charles Senior married again, to Annie Barrow Pearce (b. 1859, d. 1936). The Pearce Family owned The Tannery in South Molton, bought by Charles and his brother Thomas Pearce in 1881, until they sold it in 1953. Iris Pearce, wife of Charles Pearce Junior, and Cherry Pearce, their daughter, both live in Pilton.
Events related to the Pearce Family and Pilton House, which are recorded in The Pilton Story, include that the grounds of Pilton House were the setting for the 1908 Devon County Agricultural Show, a Conservative Party Fete (date unknown), the snowy winter of 1917, the Wictory in Europe celebrations at the end of World War II in 1945 and the sale by the family to the Barnstaple Old People's Housing Association in 1948 which turned it into a residential home. The parkland in front of the House was subsequently turned into Rotary Gardens 1974. Read more about these events in the Archive by searching for 'Pearce'.
Albert Linacre
In September 2015 Pilton lost another key figure with the passing of Albert Linacre. Albert spent the last 35 years of a very full life in Pilton, much loved and admired by all who knew him, but the first fifty years were spent elsewhere. Born in Birmingham in 1930, he was at school in Edinburgh in 1940 and, after national service, began a successful career in catering management which included some very prestigious locations around London. He married Maggie in the late 1960s, and they gave up the London life and moved to North Devon in 1977 and bought a shop and house in Pilton Street. This became a wholefood shop and coffee bar run by Maggie, while Albert went to North Devon College to teach the art of catering. In 1982 the first Pilton Festival took place and Albert, closely involved in its organisation, started making costumes. When the first Green Man Day was held in 1995 Albert, with the help of his sewing ladies, made the distinctive costumes which characterise the event to this day. His strength, enthusiasm and skill inspired others and certainly helped Pilton's community activities to prosper while the shops of Pilton Street gradually declined and closed. Without Albert the Pilton Green Man Day would not be the wonderful magical spectacle it is today - a fitting way to remember him each year.
Last of the Pilton Summer
Putting the Pilton world to rights in the 1970s and 1980s on a bench facing Lower Raleigh Road across the New (North) Road are Arthur Thorne of Athelstan House, 123, Pilton Street, Steve Norman of 12 Carrington Terrace, Jack Gwilliam of 12 Yeo Vale Road and Ike Shaddick who lived in Lower Raleigh. They used to sit on this bench regularly in their retirement. The date of photograph is about 1980.
Follow this link to the archive for more detail.
© 2018 The Pilton Story.
Website & Database Design by WillcoxMedia.net