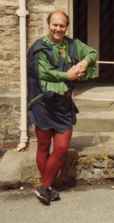 The Pilton Green Man Festival started its 'modern' life in 1982 when Rev Anthony Geering of St Mary's Church had the idea of resurrecting an event which dates back to 1344 when Edward III bestowed the right to hold an annual market on the village. He got Noel Harley, Albert Linacre and Ian Thomas (left) together for an initial meeting and the rest, as they say, is history.  The first year is recorded in the film 'Pilton Festival 1982' made by the late Clifford Davies, an edited version of which is in The Pilton Story archive.  The complete 33 minute film can be borrowed from The Pilton Story by contacting us through this website.
The Festival happened again in 1984 and 1986 and then, in 1987, there was an Arts Council funded Easter Festival 'The 12 Curlicues of Pilton' supported by Beaford Arts Centre with the Horse and Bamboo Theatre Company.  Ian Thomas' memories of those early years are also recorded in the archive under 'Pilton Festival : the Early Years', which is by far the most viewed item in The Pilton Story archive.  The Green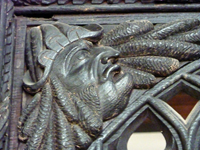 Man theme is thought to have derived from Anthony Geering's 'Robin Hood' style costume at the first event coupled with what was thought to be a Green Man carving in the Church, although that is actually a Harvest Man (left)!
The Festival has happened pretty well every year since then – records are a bit hazy – and has gradually expanded and changed to include music, and arts and crafts, food and children's activities in Rotary Gardens.  The 2013 Pilton Festival has a Festival Feast in the Church Hall on 13th July and a Concert of Myths, Legends & Fables in the Church on 21st July.  Green Man Day itself is on Saturday 20th July – as usual, the third Saturday in July.  After some years, during which the Festival started to get a bit too large, the emphasis of the organising committee is now on making it very much a local community event.
For more information visit the Pilton Festival website on www.piltonfestival.co.uk.