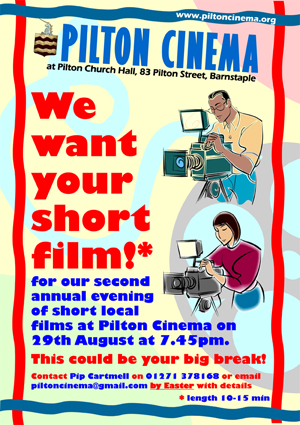 Pilton Cinema is organising its second evening of short local films on 29th August 2014.  After last year's successful evening in July, when seven excellent films by local filmmakers Tony Webber, Matt Briggs, Mark Brindle, Joel Mills and Ryan Martin were shown to a fascinated audience.  The titles were:
'Drama'
'Roof-tops, Chimney Pots and Seagulls'
'Dreamin"
'St Anne's Chapel Virtual Tour'
'Living with Faismorts'
'Gangnam Style by Tesco Barnstaple'
'Magic Girl'.
If you are a filmmaker or have aspirations to be one, this could be your big break!  Contact Pip Cartmell on 01271 378168
01271 378168 or email piltoncinema@gmail.com BY EASTER (20th April) with details.  It needs to be quite early as they have to be approved by North Devon Council before they can be shown!