In May 2014, The Pilton Story was an important stopping point on the UK journey of Anne Bishop and Jan Morrell from Nova Scotia, Canada, who are on the trail of their English ancestors.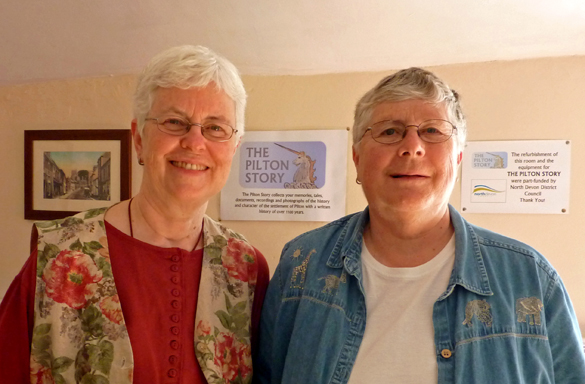 Anne Bishop (left) and Jan Morrell visit The Pilton Story
Anne is descended from the Hartnoll family, residents of Pilton since at least 1773, when John Hartnoll of Braunton married Elizabeth Facey.  In 1845, Mary Ann Hartnoll (their grand-daughter) married Edward Turner Bishop of Exmouth (Anne's great-great grandparents) and, after the birth of six sons, emigrated from Plymouth to Ontario, Canada in 1855. But that was only the start of the Hartnoll/Bishop story.  For much more about them,  particularly relating to Pilton, please visit The Pilton Story archive – Descendants of John Hartnoll and Elizabeth Facey.
And that is only a very small part of an even more fascinating family story which has yet to be told in full.  We are pleased to have contributed a small part.  Thanks to Anne and Jan for their visit and their donation to The Pilton Story.