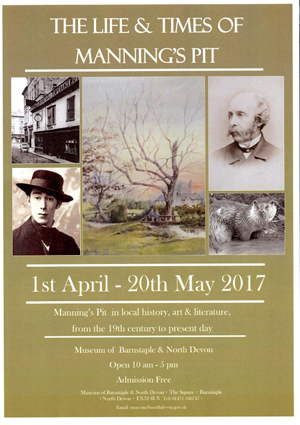 The recent application to build houses on the much-loved Manning's Pit has prompted a great deal of activity in Pilton.
The closing date of 16th March for comments on the application 'to build up to 43 dwellings' on the fields behind Lynbro Road resulted in over 250 objections, a clear demonstration of the passion of Pilton people for Manning's Pit.  The Friends of Manning's Pit are putting on an exhibition in Barnstaple Museum from 1st April to 20th May entitled 'The Life and Times of Manning's Pit'.  In addition to The Pilton Story's small collection of stories it has gathered together contemporary material from the 19th century, when the Manning family lived in Pilton and are thought to have kept cattle on the land we now know as Manning's Pit.
Don't miss the chance to see it.  It's free and the museum is open from 10am until 5pm Monday to Saturday.